the entrance opens onto a cascading interior landscape that includes a group of flexible spaces. These in turn open up to four rejuvenated public spaces: a common event; the shaded paths of the grove; an entrance plaza at 33rd Street; and a new food market and plaza to the south. in addition, the surrounding campus' signature red brick pathways flow seamlessly throughout the new building. outside, the landscape has been shaped to create outdoor spaces for student activities and events. a central square can accommodate temporary exhibitions or shows, as well as vendors and food trucks to animate the corridor of rue charles nord.
the project is the result of a months-long international design competition led by a special advisory committee with students and student affairs staff included throughout the process. more than 1,200 students, faculty, staff and alumni responded to a survey, prompting evaluation of the four design finalists with feedback on BIG's concept was overwhelmingly positive. the proposal has been praised for its open feel, connections to surrounding outdoor spaces, abundance of natural light, and built-in features that support the university's sustainability goals.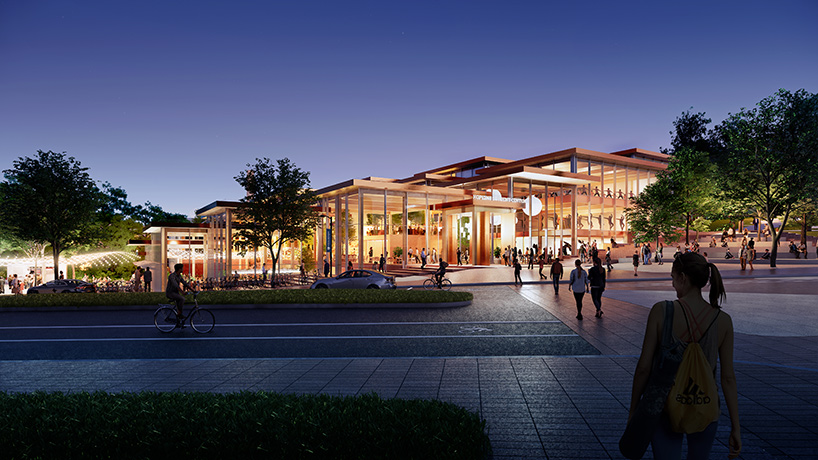 "it will be a new type of space for us – one that is not academically focused, but entirely social by design," said ronald j daniels, president of johns hopkins university. "open to all, only to no one, and with flexible spaces that invite connection and collaboration, it will be a place where athletes and actors, step teams and SGA members can gather side by side. rating."
The new Hopkins Student Center is scheduled to begin construction in the spring of 2022, with completion expected in the fall of 2024. it is BIG's third academic building in United Statesfollowing the Isenberg School of Management Business Innovation Hub for the university of massachusetts amherst and the construction of heights for Arlington Public Schools, both completed in 2019.
project info:
Name: hopkins student center
type: competetion
Cut: 13,935 m² / 149,995 square feet
location: Baltimore, Maryland, United States
client: johns hopkins university
Collaborators: Shepley Bulfinch (archive architect), rockwell group (interior designers), michael van valkenburgh associates (landscape architects)
BIG – bjarke ingels group —
responsible partners: bjarke ingels, leon rost
partner-in-charge: elizabeth mcdonald
project leaders: jason wu, lawrence olivier mahadoo
team: alex wu, xi zhang, chia-yu liu, guillaume evain, jakub kulisa, kig veerasunthorn, mike munoz, tom lasbrey, tony saba shiber, blake smith, corliss ng, florencia kratsman, francesca Portesine, jamie maslyn larson, gabriel bijou vitale, kevin pham, josiah poland, jialin yuan, ken chongsuwat, duncan horse, ben caldwell, margaret tyrpa, terrence chew, tracy sodder, chris pin, alexander matthias jacobson, tore banke, frederic lucien engasser, xingyue huang, jesper petersen, kaoan hengles
philip steven I conceive
November 04, 2020