In the wake of "Postergate," free speech faces its new challenge at Harvard Law School.
Reclaim Harvard Law School protesters claim a recording device was found in the Caspersen Student Center, which they renamed "Belinda Hall". According to a statement released by the protest group, on "Tuesday, April 5, four Harvard Law School students found a voice-activated recording device in Belinda Hall."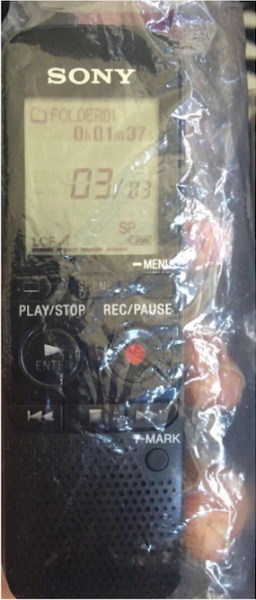 Since February, members of Reclaim have occupied the Caspersen Student Center in an act of protest. The voice-activated Sony recorder was reportedly found glued by Velcro to a small table near Caspersen's entrance. A single piece of Velcro still remains attached to the bottom of the table where the recorder was allegedly found.
There is now a sign at the entrance to Caspersen with a picture of the Sony recorder that reads: "For your information: Earlier this week this hidden voice-activated recorder was found under a table in this room."
If the allegations are correct, the offense violates Massachusetts state law, which carries a potential penalty of up to five years in prison. Unlike most states, in Massachusetts both parties must consent to record a conversation (see Massachusetts General Laws Chapter 272, § 99). Federal law is more lenient and requires only one party to the conversation to provide consent (see 18 USC 2511(2)(d)).
"Given the criminal nature of the act, we have spent the last few days consulting with attorneys to ensure the protection of all potentially injured parties," said Rena Karefa-Johnson, member of Reclaim Harvard Law.
On Friday, three days after Reclaim allegedly found the device, Francis McCrossan, the dean of Harvard Law School, sent the entire law school an email acknowledging that the university was aware of the allegation. , as well as Harvard's referral of the case to Harvard. University Police Service.
There are no school-operated video cameras directly near where the recorder was allegedly found, which means it can be difficult to find the potential culprit. However, there is a video camera monitoring Wasserstein Hall which is perched about 50 feet from the alleged location where the recording device was found. It is conceivable that the crime scene is within the video camera's field of view. According to Harvard Law School's video security policies, "Video images are stored for thirty days." It is still not known how long the device was planted.
The incident is particularly odd considering that the table where the recorder was allegedly found is one of the only areas in Caspersen that might even be within range of Wasserstein Hall's video camera.
Members of Reclaim Harvard Law believe the recording device was placed in Caspersen in an effort to suppress their occupation. "We believe this was an intentional effort to police our movement," said third-year student Bianca Harlow.
This latest development comes in the wake of "Postergate," when members of Reclaim Harvard Law refused to allow third-year student Bill Barlow to post posters on Caspersen's walls that criticized the Reclaim movement.
After an email from Dean Martha Minow and outrage from her classmates, protesters relented and allowed Mr Barlow to post his signs on a wall which protesters called "privileged speech".
On Friday, Mr Barlow took to Facebook to condemn attempts to secretly record students, calling the behavior "unacceptable and illegal under Massachusetts law".
In its statement, Reclaim Harvard Law draws attention to an incident in November when black tape was found on the portraits of tenured black law professors at Wasserstein Hall. In this case, the black ribbon found on the portraits resembled the ribbon originally used to protest the law school shield because of its perceived links to slavery. After months of protests, the Harvard Corporation agreed to remove the shield about three weeks ago.
The discovery of the recording device at Harvard Law School appears to be the second free speech violation in the past two weeks.
"Surveillance as a tactic to suppress movements is not new – it has been used historically by government, institutions and individuals to dismantle racial justice movements by preventing action planning, publicly misrepresenting internal dialogues and scary speeches," said second-year student Titilayo Rasaki.
After Mr. Barlow was denied the opportunity to display his signs, student sentiment toward Reclaim Harvard Law appeared to sour. It remains unclear how students will react to Reclaim's message in light of these new allegations. For now, however, only one thing seems certain, someone is listening.