Adjusted for inflation, the average annual cost of attending a four-year, full-time college—including tuition, fees, room, and board—in the United States rose from $10,231 in 1980 to $28,775 in the 2019-20 school year, a roughly 180% increase, according to the National Center for Education Statistics. (Courtesy of University of Houston-Clear Lake)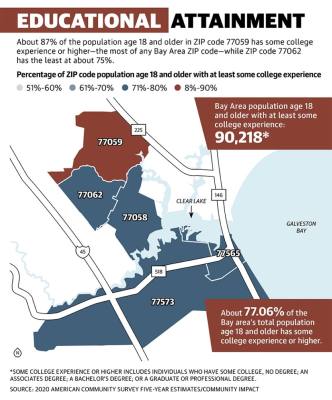 The cost of higher education continues to rise, with more students relying on federal loans to pay for their degrees. Meanwhile, potential short-term relief for former students struggling to get out of debt has been put on hold, and questions remain about a long-term solution.
Adjusted for inflation, the average annual cost of attending a four-year, full-time college—including tuition, fees, room, and board—in the United States rose from $10,231 in 1980 to $28,775 in the 2019-20 school year, a roughly 180% increase, according to the National Center for Education Statistics.
"We've been telling everybody for decades, 'You have to go to college.' So the demand has gone wild, and many colleges aren't functionally much bigger than they used to be, so every seat is more expensive," said Dietrich Vollrath, professor and chair of the Department of Economics at the University of Houston.
Data from the Federal Reserve System shows that more than 45 million borrowers nationwide have contributed to approximately $1.75 trillion in accumulated student loan debt, with more than $1.6 trillion of these loans issued by the federal government. In Texas, 52% of college graduates in the 2019-2020 school year had student loan debt with an average debt of $26,273, according to the Institute for College Access & Success.
In the five ZIP codes that make up the Bay Area, data shows that more than 90,200 people ages 18 and older have college or higher experience, or about 77% of the local population ages 18 and older, according to US Census Bureau data.
Locally, the cost of tuition – excluding additional fees – for 24 hours at San Jacinto College, which has a campus along Spencer Highway in Pasadena, has increased by approximately 42% between the 2012-13 and 2022 school years. 23, while the average annual cost of tuition at the University of Houston-Clear Lake has increased by more than 47% during the same period, according to college data.
Hoping to bring relief, President Joe Biden announced on August 24 that he would issue an executive order that would have allowed nearly 43 million Americans to get up to $20,000 in forgiven federal student loans. . On Nov. 10, a Texas judge blocked the program and the Biden administration stopped accepting pardon applications.
While the plan has been welcomed by borrowers, experts said they fear cancellation of the loan could lead to further tuition inflation. Betsy Mayotte, president of the Institute of Student Loan Counselors, said while she supports the initiative, she believes it is not addressing the root cause of the problem.
"Everyone is talking about the student loan crisis, and it's there, but it's a symptom, not the problem," Mayotte said. "The problem is the cost of higher education, and this plan does nothing to address that."
Expensive tuition
Vollrath said inflation plays a role in raising the cost of a college education, but he also noted two additional factors that have led to steadily rising tuition costs.
According to Vollrath, wealthy economies such as the United States tend to experience faster rates of inflation for services such as education and health care compared to manufactured goods, because the cost of producing these goods decreases over time.
In addition, there has been a decrease in financial support from state governments. Between 2008 and 2018, state spending on higher education in Texas fell from $9,256 per student to $7,107, a decline of 23.3%, according to the Center on Budget and Policy Priorities.
"We're getting about half the money we thought we were getting 20 to 30 years ago, and you have to take that into account, so it usually ends up being offloaded to students," Vollrath said.
During the same period, the average cost of tuition at public four-year colleges in Texas increased by $2,302, or 30.4%, according to CBPP data.
"Public schools are really like the anchor price of colleges and universities, so if your anchor price product goes up, that means the private, more elite schools can raise their prices and pass the laugh test," said Mayotte. "But if you reduce the cost of your public institutions, it would hypothetically force these private universities to reduce [their cost] just to be competitive.
However, Vollrath said he doesn't think the blame should be directed solely at declining state contributions to higher education.
"Why are universities paying for things that seem to drive up tuition and don't seem to contribute to the foundation of a student's education?" " he said.
Basics of the diet
As noted in an Aug. 24 White House press release, Biden's three-part plan was to provide up to $20,000 in debt forgiveness to Pell Grant recipients with loans held by the U.S. Department of Health. Education and up to $10,000 in debt forgiveness to non-Pell Grant recipients.
The Biden administration began accepting requests for loan relief on Oct. 17. After the program was blocked, the White House stopped accepting applications, but said in a statement it had appealed the decision.
Individuals would have been eligible for this relief if their income was less than $125,000 or $250,000 for married couples. Current students with loans would also have been eligible for debt relief; however, borrowers who are dependents would have qualified based on their parents' income.
Additionally, the White House announced Aug. 24 that the pause on federal student loan payments would be extended through Dec. 31 and that borrowers should expect to resume payments in January. Despite the blocking of the loan relief program, the repayment pause is still in effect.
The Department of Education estimated that about 43 million borrowers would have been eligible for relief, including 27 million borrowers eligible to receive up to $20,000 in debt forgiveness.
"People who must [$10,000] or less or [$20,000] or less tend to be the ones who struggle the most," Mayotte said. "The reason their balance is so low to start with is because of one of two things: either they've been paying forever, or…they have debt and no degree."
Mayotte believes this is not the end of Biden's initiative.
"I still think forgiveness will pass," she said. "All borrowers can do right now is sit back. If payments resume in January and it's not settled yet, they should discuss options such as forbearance or plans focused on income with their loan servicers.
local point of view
Across San Jacinto College, the cost per credit hour this fall is $78 for district students. Those rates have been the same since at least the 2019-20 school year, said Teri Zamora, SJC's vice chancellor for tax affairs.
According to data from SJC and UHCL, SJC, a two-year college, is cheaper than UHCL, a four-year college, where the preliminary cost per credit hour is $251 for 2022-23, the same as the last year.
Less than 3% of SJC students take loans, and that's an average of $3,062. At UHCL, 28% of students borrow, which is an average of $9,632, according to data from the two colleges.
"Students can stay home with their families in East Harris County while attending San Jac and save money on rent and utilities and graduate with little to no college debt," Zamora said.
Still, UHCL prides itself on its cost.
"UHCL is one of the most affordable four-year universities in Texas," said Kara Hadley-Shakya, UHCL's acting vice president for strategic enrollment management. "Our goal is to keep education affordable."
Mark Denney, UHCL vice president for administration and finance, agreed.
"UHCL offers a focused pathway to complete your full undergraduate studies in four years at a relatively low cost, where many community college students can transfer and still have to spend more than two additional years at UHCL, making the total cost much closer if not more than attending UHCL from the start," Denney said.
SJC officials said one of the college's goals is a low cost of entry for students.
"We strive to remove any barriers our students may encounter in pursuing their educational goals, and that includes minimizing the cost of achieving that goal," Zamora said.
Saab Sahi contributed to this report.